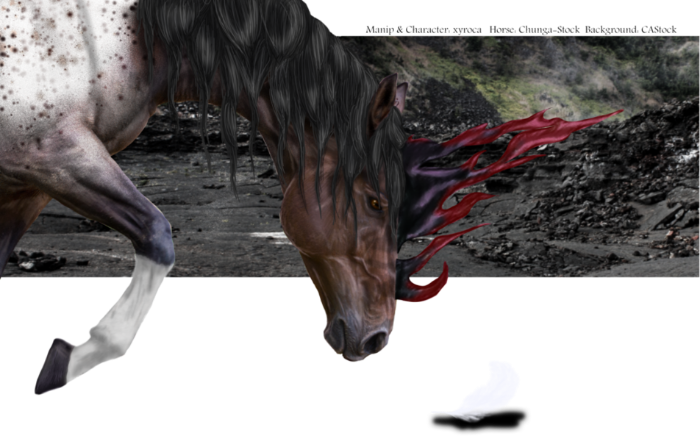 My costume had since changed in this ridiculous game, deciding on something that was something slightly more comfortable than my previous attire. I ditched the multiple chains that had adorned my neck for a simple cow bell that echoed in the surrounding pyramid environment. Black and white paint blotches covered my body, and four pink balloons had been loosely filled and were now tied together underneath my belly to represent a rather misshapen udder. 'Damn things.' I thought to myself as I swayed my hips in an attempt to get more comfortable. Balloons riding up into one's crotch were not the most welcome feeling in the world. Having readjusted myself, I took a quick look around. It was tempting to get distracted by the various treasures that piled up along the walls, but I had to remind myself to stay focused. Having made it through the first battle against a damned fire-possessing crossbreed, my confidence level was now at it's peak.

My dark gaze darted towards my opponent, lips pulling down into a scowl as I sized him up while ignoring his costume. It was what was underneath the attire that was important, and it was almost impossible to not feel my confidence shake as I eyed the behemoth. Even in the dim light of the reflected sunlight, it was rather easy to spot the giant. A plain stallion, I was thankful that this brute was at least grounded. This draft may have is monstrous size towards his advantage, but this meant that my agility and speed would surpass him, as well as having my own personal weapon donning my crown. Quick in and out jabs would be my best advantage as I formulated my plans of attack. Get in, do as much damage as possible, and get out. I made a mental note for myself to keep my legs and head as far from his hooves as I could manage, not wanting to even imagine the sorts of injuries he could deal with them.

A noise caught my attention behind the giant, chocolate gaze widening as a mysterious being began to rise from the tomb. Auds pinned back with disgust as the mummy clambered out in a wobbly mess, gauze unraveling and dripping with a number of creepy crawlies that could send shivers down anyone's spine. With a scowl I had to hope that we could get this over with quickly, and to get away from the mummy as soon as possible. Perhaps I could use the mummy to my advantage?

Focusing on the task at hand, I reared up while giving off a fierce cry to announce the start of this ridiculous battle. The bell around my neck jangled about, it's ring echoing off the walls to mock me. My balloon udder was a sight to behold as it bounced around. As soon as my hooves touched the ground, I kicked off into a full charge towards the beast. Leading with my horns pointed towards the stallion's left shoulder, it appeared as though I was going to run a straight line directly into him. However, as I neared the beast I adjusted the degree of my path ever so slightly, pivoting with my horn still aiming to slice into his flesh.

If I were to miss, I hoped that the slight adjustment in my path was enough to at least ram my right shoulder into him, relying on the beast to move a little slower than myself. With any luck, perhaps I could get the giant to back into the mummy? There was nothing like tangling him up in the unwinding gauze to trip up those massive hooves to up the chances of my success. Otherwise, I hoped to feel that abrupt jolt that would course through my body if the multiple points of my horns could tear into his muscle and sinew. How what a wonderful image that would be, to picture his blood dripping down my horns and feeling the warmth of the fluid flow down my muzzle. I was high on the fantasy, the thrill, the rush of potentially defeating another. Oh yes, may the god's let this be a delicious success!


Tag: @[Archibald]
Words: 697
Costume: Panzram is a cow! He has black and white paint on his body, a cowbell tied around his neck, and a set of balloons forming an udder tied around his barrel.
Attacks: 1/2
Closing Defense: 0/1

Please tag Panzram in first posts only. Violence and magic can be used on him, just please do not kill or permanently injure/maim.