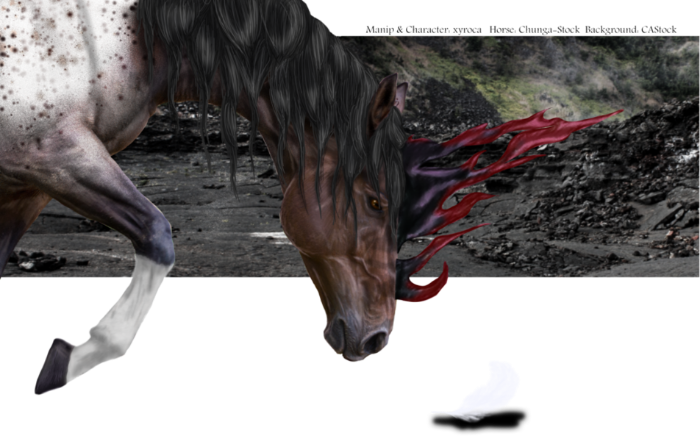 I had yet to wash away the blood that had built up on my coat that had not rinsed off from my swim back to the mainland, having no intention of removing my personal badge of honor for helping to defeat the mutant gods that had sent in their infected people to destroy those that lived here. I may not have held the utmost respect for the Helovian gods, especially now after I had received nothing but illness as their gratification,  but that hadn't stopped me from participating from the once in a lifetime opportunity to take out my frustrations on a divine being. Despite the burns that marred my foreleg, shoulders and back, everything was bearable ever since the Earth God had healed me of the dibilitating headache that had drained the blood from my ears. I still had the streaks stained down my cheeks, though it would be hard for anyone to tell that it was my own blood rather than the gore of a victim of my horns.

With little to no intention of returning to the Aurora Basin,  I wandered the lands of Helovia aimlessly, browsing through the shadows as I attempted to allow myself a break to heal. I found myself in one of the newly discovered lands, the dark lands covered in scarlet leaves fed by a crimson river, the perfect place for a soul such as myself. While I typically lingered around caves to reminisce about my times as the Master of Srotigus Pit, it didn't take me long to realize that this land could grow on me. Limping closer to the streaming river, I lowered my cracked lips to the reflective surface with a strange curiosity. It was a fasnicating illusion, but it was an illusion all the same as I drank from the water's edge. Although it was just as beautiful as the steady flow of a slit neck, beckoning me in for a taste, the water lacked in quenching that particular thirst.


Despite the fact that my throat burned for the taste of a kill, my pride and ego begging to be fed by another notch in my belt, I knew I was not in any condition to succumb to my desires at this time. My eyes glared out to the shadows, auds pinning back as I grew suspicious of any that may have lurked. A gruff snort brought a flare to my nostrils while I stomped a heavy front hoof to warn any that may be wanting to sneak up on me. I may not be in my best shape, but I was not to be underestimated nor taken lightly.



@Zandora
, can't wait for them to meet up again!
Please tag Panzram in first posts only. Violence and magic can be used on him, just please do not kill or permanently injure/maim.