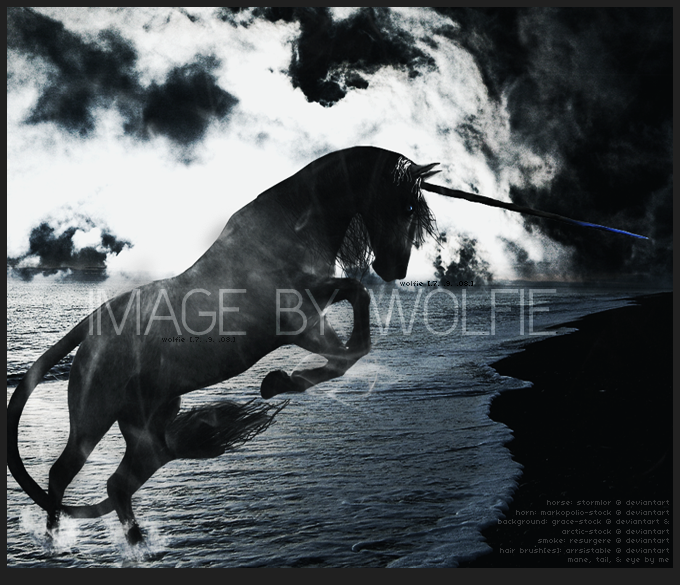 Death and damnation called to him, ferocious and vehement. It seethed and scorched, smoldered and brewed, until his soul, his skull, his mind, was naught more than a contemptuous canvas; his blade was its brush, blood was its paint, scorn was its scenery.
Because someone had dared to take from his herd.
If it was villainy, if it was vengeance, if it was the rancorous, savage taste of defeat the pilferer sought, he'd earned it. Had he not heard the stories? Did he know nothing of the bestial kingdom, of the chilling sovereign? How many times had they combatted their enemies? How many times had they torn the world apart? Yet he wove audacity, drove into the core of their empire, and stole from one of the Reaper's own?
The thought of bludgeoning, of murdering, of massacring, of reveling in the rapacious elegance of violence, beckoned him away from the icy, chilling walls. He searched and spun, he chased and tore, he mauled and carved and sculpted his way through rocky passages and Orangemoon landscapes, following and tracing the corridors where the thief had gone.
Requital had reared its fierce head, and embedded itself within the dark Lord's undulating frame, and it was burning, churning, beautiful conflagration of contempt, malice, and menace. It pulsed through his figure and pervaded through his core, an illustrious feast of fervency, might, and destruction, all incensed, all kindled, for one being.
He remembered the Pegasus from before: rampaging for Ode, ignoring the demons and gods, aching for a chance to maim his nephew. The Reaper hadn't been able to land an attack – but today, today he would.
He'd mutilate him. He'd dismember him. He'd rip his flesh from his inept, feathered little hide and toss it into the sea. He'd make the gliding fool remember the ways of the Basin: the dangerous, treacherous methods of their world, the decadent supremacy, the licentious dominance. Gull had poked the wrong bears and beasts.
And if he tried again, the result would be the same.
Deimos followed the faint scent until dawn, when he reached the dotting of islands and the rush of water, narrowing his eyes, searching for his intended victim. The climate wasn't searing in the autumn sheen, but still an acidic difference from his frosty home (would that bode ill, or simply ensure he burned even more?). He might have marched down into the jungle contortions or steep mountains, on the hunt, on the prowl, had the infidel's stare not pinpointed on a certain painted figure.
Time to die.
A predator, a wolfish, minatory cretin, he slinked and slithered through sand and shoal, eager for the fray, ardent for slaughter. Callous and restless, desolate and terrible, he concocted a savoring layer of barbarity through his lungs, felt it smolder against his throat and ripple through his jaws, until he relinquished one giant ball of fire as he came closer and closer, reeling with depravity and deadly, ethereal wrath. The blast was aimed purely for the right side of the Pegasus, for his hide, for his flesh, for mutiny and sedition.
Only after, reeling in nefarious hate, in primordial lethality, ire, primal and arcane, did he drum the reason for his appearance, for his fiery siege. "You have something of the Basin's. We want it back."
[Challenge for Mortuus Nox's wolf hide.
1/4. 551 words.
Setting: Riptide Isles, Orangemoon, morning, along the shoreline.
OOC: Deimos hunts for Gull. Sees him on the shoreline, and attempts to hit the right side of him with a blast of his fire magic. Announces his intentions.]
@Gull