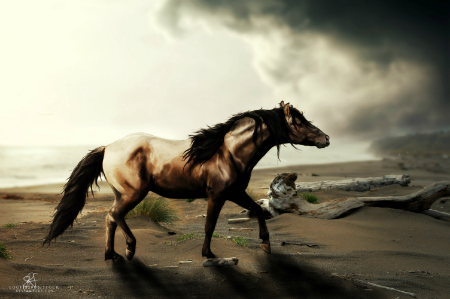 Oh&Baby, even fairytales will be jealous..




I trudge wearily through the snow, bored of the sparkling innocence that it brought to my surroundings. Bring back the stark, emptiness of autumn. Winter may be cold and bleak, but the snow brings a beauty that hurts my blackened eyes. I snort in exasperation as I pass under a branch that decides to drop snow onto my cranium. Shaking myself and trying not to shiver, I continue.

Not sure what exactly I am looking for, I have been travelling for a fair few moons. Walking blindly, just trying to leave behind the alien emotions I had been feeling, for that golden femmora Belle. I couldnt understand how I had let that particular damsel in distress get to me, for I do not have any patience for those who can not look after themselves. But she had clearly been different, the one with pelt of treasure and the eyes of the ocean, the harlot had led me down her path, from which I could now not escape. I still dream of her at night, and I still think of her in the day.

Without realising it, I seem to have entered into what seems like some proper herd lands. I wonder who I can find here to get that jezabel from my skull. Someone lost, distraught and weak whom I can cosy up to and bleed them for all they are worth. Just like I should have done Belle, rather than letting her keep the sprog that I had a rightful claim to.

I glance about my surroundings, they don't look familiar to me, which suits me just fine. Plenty of new souls to corrupt, rather than the old tired ones that I had kept coming across before. It is no fun trying to play games with someone who has nothing else to lose.

I let out a loud bellow, letting anyone close by that I have arrived, and that I want some attention...



Tagged: Rumplestiltskin Notes: Can't Wait xD Credit: Manip: Loopie2008, Table: Stephy