the weaker you get the more I feel strong
There was another world beyond the confines of the ocean, and he and his father had left that rock together when Gaucho had let them out. Amalrik, though he liked the Dragon's Throat, was hesitant to return and get trapped again. He wanted a key like the others had, but his father was not a part of that herd. That would make obtaining one even more difficult, especially since he hadn't seen his mother since that first night he had awakened. From what he had seen, the mother was supposed to do much of the raising, but he was pleased his father was filling in the gaps.

Ulrik was an interesting begin, and Amalrik found himself wanting to emulate the Engineer. The dark one was silent and strong, a force without speaking. He didn't even have to yell to get his point across with whatever strength he required. Amal wanted to learn this skill, so he trailed after the darker stallion, mimicking the long, lumbering way he walked with his neck lifted and arched.

He was also very proud to have two horns like his father. They had grown in quickly, edged in gold. Now, he was waiting on the beard and fur. Amalrik shook the tuft on the end of his tail as if he could force it to grow longer, and even the mane atop is neck still appeared cropped, short and fuzzy. One day, though. One day, he would achieve some sort of rough exterior like his father (but he would bathe more often). Ulrik often got so lost in his own head that he forgot, but Amalrik was not like that - he knew. He was more connected to reality.

"Where are we going?" he asked. His small voice was still rumbling like his fathers. There was a promise of a nice bass tenor beneath the childish vocal chords.

Golden and green eyes looked out across the meadow, his cloven hooves moving through the green at a brisk trot while he puffed behind his father. His legs were not long enough to keep up at a walk anymore, and he was starting to get hungry. "Can we take a break?" he asked, looking up at the massive stallion once his smaller frame had finally caught up.




table by tamme, art by Inspiratori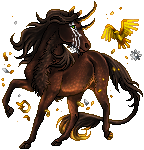 Please tag me in every post