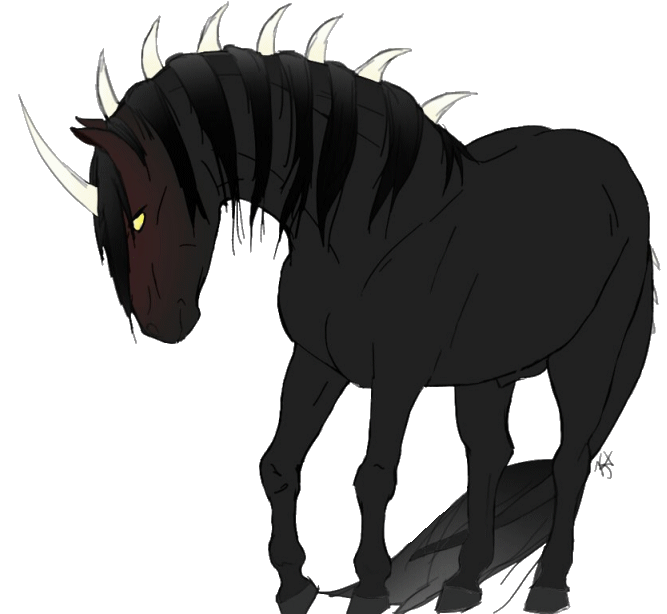 Ausar
Going it alone was what Ausar did best - eat alone, hunt alone, sleep
alone
. It was better for his mental health; when he was around others, he had to put on a
facade
, the face of some weakling stallion that did what he was told and delighted in making new friends. All of that was, of course, still in his snarky own way, but equids seemed to enjoy his callous faux nature. Having an apparent lack of brain-mouth filtering, they enjoyed hearing what ridiculous thing his mind would come up with next.
Oh, how little they knew.
It was unfortunate for him, then, that his scheme would not work without a herd to call his own. It forced him to shove his personality back inside the precarious porcelain shell until it was time to set himself free. For now, however, he broke that barrier, tore down the wall that he erected each and every time he was in company. For now he was Ausar, the heartless, the soul breaker, the
executioner
. He walked powerfully through and around the foliage, tossing his head from time to time to rid his neck and shoulders of the tension that came with continually schooling his features. A few times he even pawed at the earth, took a few quick steps, and bucked out. His back gave a satisfying
pop
, alleviating that dogged stiffness that had been curled in his epaxials.
Without any real direction, the demon wound up following the sound of lightly running water. He preferred the tang of blood over the tasteless aqua, but he was no fool - hematophagy alone would give him a killer headache, because his traitorous body needed whatever it was that made water so damn vital for life. It annoyed him greatly. So with a snort, Ausar lowered his head at the water's edge and took a long drink, trying not to grimace the whole time.
A rustling had his poll lifting, neck pulling to the left to survey his surroundings. The movement caused a bird - a jay, he thought - to flitter from its perch and take to the sky, and when the beast's gaze fell from it back to the topography, a stone structure rising conspicuously from the soil caught his attention. Brow furrowing, Ausar picked his way through the underbrush to examine the construction, going as far as placing his forelimbs on the tough interior. He was not foolish enough to enter the whole way - doing so would partially trap him, and how did he know this thing wasn't some magical portal? He had yet to fully understand this land; he wouldn't put the possibility past it.
Come meet the beastie! :3
Please only tag in opening posts.
Contact/Force/Magic always permitted provided you're not killing or irreparably damaging him!