AS GOD IS MY WITNESS, I'D RATHER BE DANGEROUS
The first thing the gargoyle notices is how bloody
cold
it is up here in this northern realm. There's a biting chill in the air that bids her muscles to quiver and her teeth to chatter involuntarily, accustomed as she is to the Edge's mild temperatures. Perched on her back, Ker has fluffed up to such an extent that she appears to be just a giant ball of feathers, shuddering pathetically and clicking her beak with dismay.
"Cold cold cold cold COLD,"
she whines, doing an odd little tap-dance on her feet to try and warm up. Her claws dig into Oizys' cold flesh, making her wince with pain.
I like it, replies the bulky yearling, her mental voice harsh as she dares Ker to suggest that they move elsewhere. She has already made up her mind that this is where they're going to live, and the domineering mountains all around her only solidify her faith in her decision. The place is beautiful, crystalline-white and crisp, and the witch's breath creates a fog of mist in the early morning air as she trots at a brisk pace towards what she assumes is the herd's border. She'd hated the Edge's searing temperatures, suffering with slathered sweat across her grey fur in the warmer summer months, and had found that the heat exacerbated her heart condition. The Basin's chill air is a welcome relief, even if her body isn't used to it and shivers accordingly. She'd been born in the snow of the Steppe in the depths of winter, after all - the ice and frost are part of her.

"But it's cooooooold," Ker continues to wail, unfurling herself for long enough to glare around before cuddling back into her feathers again. Oizys studiously ignores her eagle's protests and the ":( :( :(" faces being sent into her mind. This is a fresh start for the gargoyle, a new leaf turned over in the frosty breeze. In the Edge, she'd been embroiled in a lie of her dam's making; Oizys the foundling, Oizys the orphan fortunate enough to be taken in by the altruistic Nyx, Oizys the brat, Oizys the mother killer. Here, she has a clean slate. Here, she can be Oizys, daughter of the Basilisk and the Ironheart. Oizys, stone-faced demon, warrior, queen. Here, nobody knows what she's done. Here, she can rise to glory unburdened by the events of the past.

In the distance, she sees a horselike figure. Assuming it is one of the herd's members come to investigate her arrival, she prowls closer with ears rammed forwards in an attempt at friendliness and grey eyes wide with curiosity, feeling a hint of anxiety at being so far out of her comfort zone. It will be good for her, though - she'd become too settled in the Edge, too convinced of her own greatness even though she knows she's got a long way to go. "Hello?" she addresses the stranger, moving ever closer. That's when she realises that it's not a horse, in fact, but a great metal sentinel; she pins her ears and shies sideways before berating herself for her weakness and standing her ground. "The hell is that?" Ker erupts from her shoulders and launches towards the sentinel, her coldness forgotten as she circles it warily and gives Oizys a mental image of it. It's huge, terrifying, and decidedly metal; the giant yearling decides not to advance any further and risk angering it, so she stands where she is and beckons Ker back to her. Lifting her tri-horned head, the gargoyle unleashes a low whinny to announce her presence and make the herd aware of the potential new member on their borders, her weak heart hammering in her chest.
image credits
Ozzy wants to join! :D Open to any!

[ the gargoyle queen ]
OIZYS IS ALWAYS RATED M FOR STRONG LANGAUGE IN HER POSTS
Aurora Basin Haruspex

atk: 5.0 | def: 8.5 | dam: 7.5
Mare :: Unicorn :: 16.3 hh :: 3 HP: 68 | Buff: NOVICE
Astor
I AM IRON AND I FORGE MYSELF
Erebos had offered her a patrol with him, and Wessex had accepted… though she wasn't quite sure whether she was supposed to approach him and ask him to accompany her, or vice versa. The first is less than ideal, she doesn't want the General to think she can't handle a simply border patrol by herself. The second is better, but every time they meet, he says nothing, and she wonders if he has forgotten. The only conclusion the eight-horned mare can firmly come to is that indecision is ridiculous and she's fucking better than this.

A home and approval should not make her complacent, should not weaken her drive to succeed in whatever environment and whichever task is placed before her. So what does the newest Soldier of the Basin do? She patrols. Because she does not know what else she should do.

Passing around the makeshift gate through which Tiamat led her, Wessex hears a faint Hello?, and even as she pauses to determine which way the sound came from (sounds are all sorts of echoey up here sometimes), there is yet more noise, which sounds vaguely like a commotion or confrontation. Her ears flicker back against white bone and mottled fur. Those sounds require investigation. A sound, a low whinny, follows and as it doesn't sound aggressive, Wessex simply puts her neutral face on, no flashing lights or blazing guns needed. Luckily, she isn't far from the Sentinels and as she crests a jagged bluff (smaller than a peak, but still rocky and less round than a grass-covered knoll) the two culprits come into view. But they don't seem to be doing… anything.

From the depths of her broad chest comes a response, a hail and a halt hidden somewhere in the wordless sound. The horned woman picks her way fairly easily down the slant and finally comes to rest mid-way between the tri-horned woman and her eagle, and the Sentinels. Orange-yellow eyes examine the well-built filly and her companion boldly before saying anything. The kohl-rimmed lizard eyes are scrupulous, combing over talons and comparing sizes and when she finally does talk, she mentions nothing of the mechanical guards that loom over them. "Hello. Who are you?"

This herd doesn't seem like the type to act as if every visitor is a potential threat, so Wessex refrains from aggression towards the ever so slightly larger filly. But as she is the first visitor the soldier has encountered, she's still making up protocol and flying by the seat of obnoxiously thinning tail.


W E S S E X
image credit
@Oizys
-- please tag in all posts! --
-- magic and force allowed, no death or permanent damage --
Aurora Basin General

atk: 7.5 | def: 11.5 | dam: 6.5
Stallion :: Unicorn :: 16.1hh :: Four HP: 75.5 | Buff: DANCE
Orsino :: Plain Kitsune :: Dark Illusions & Enyo :: Common Griffon :: Draining Clutch

Heather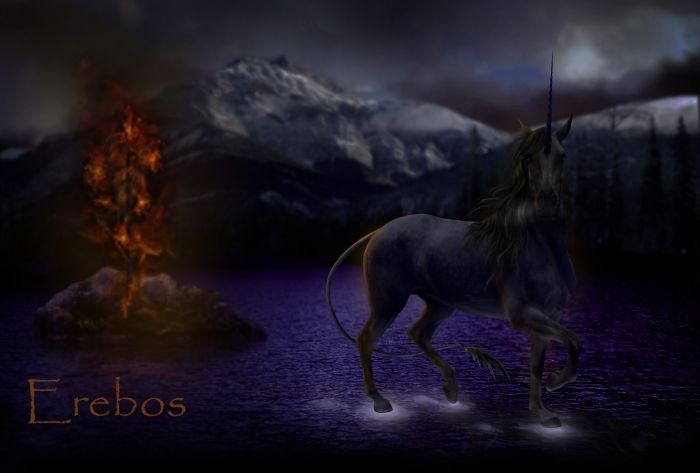 He didn't dream well; the sparks of the evening nightmares whipped across his mind and spellbound him to the cavern floor. They'd been disastrous pieces and slivers of chaos, horrific images, treacherous, serpentine, asp-like quandaries, and he'd bellowed once or twice, calling out for someone, something, to take it all away or to call for his soldiers – he wasn't certain what it'd been in the interim. But when his eyes opened, when the shadows and ghosts no longer lingered on the edge of his vision, there was only Orsino, staring at him from the entrails of darkness, shaking his head. The boy repeated the fox's gesture, swinging his skull from side to side in hopes of rattling the burdens away, but they'd return later, he was certain, and the foretold exhaustion pulled at his frame; too young to hold all the mantles, all the cloaks, all the daggers, all the schemes together.

The kitsune wandered to the opening of their chosen cave, and the boy followed, loosening his muscles, tightened from imagined battles, from illusionary wars, glancing over the horizon, across the grand sky with all its outlined precipices, summits, and peaks. They had to protect it, every damned day and evening, and the thought fused into his heart (for father, he promised, pretending as if his oaths and assurances still carried any weight), pulsed through his chest, and set the searing fire in his motions.
 
His movements were restless entanglements of a soldier, whipping along borders, sauntering past patrol outposts, clinging to bits and portions of savagery, of nefariousness, of wicked notions so he could think of anything else but grief, but tasks, but miseries. Orsino followed, just as decadent, enriched and infused with the notions of bestial, cunning, crafty devils, pondering when Erebos would truly fall into the denizens of the deep, or if he'd rise, gallant and virtuous as ever, pretending he'd never been touched by the darkness curled and coiled through his abhorrent entity. Together, they were distorted rhapsody, a blend of persecution and mayhem, of protection and guidance, because the youth never knew just quite where to put his feet, and the other wanted naught more than annihilation – breathing insurrection, corruption, and pretenses. All the iniquity in the world was bound to his sentiments, to his ruminations, to his scales, and beautiful, sweet, venomous anarchy. Erebos would follow suit – the kitsune believed in the slate, trusted in it.
 
But the fox couldn't dwell any further on the matter, because the General's attention was solely riveted on beasts lurking near the Sentinels, mired at the border, and the prince thrust his way through lingering snow and puddles – eyes focused entirely on the matter at hand. Was there an intruder? Was there an ambush, bestial forms knowing when they were at their weakest, at their most vulnerable? Was this why his father had always circulated, always maneuvered, always calculated towards surrounding their kingdom in his power? Did it fall to him now, son of the Reaper, to continue the tradition? He speculated, he clawed, and a growl stuck to the back of his throat, deciding to wrestle with the circumstances as best he saw fit.
 
On his arrival, he heard the girl's outcry, stifled the hushed annihilation brewing in his chest, and laughed. It was a charming sound, not poised or tossed out of masquerades or simulation; truly loosened from his lungs by raw amusement. "Best be careful," he called out, reaching the ridge, the outline of snow and empty, sentinel stares, "They're dangerous to intruders." Then, he turned his stare briefly to Wessex, nodding his head, applauding, commending, proud to see her there, guarding the herd she barely knew or understood. Perhaps he'd been right to put his trust, his gallantry, his hopes on her – he gave her a beaming, exuberant, wild smile, then a slight wink, ensuring some matter of his motions were out of amusement, jokes, and not the pernicious slide roaming between their decaying watchers. "Wessex," he spoke, bright and noble, a regal essence carved away from those nightmarish tangents floating through his skull, nodding at her like a good soldier, then putting his entire attention on the youth wandering their hillside.
 
He recognized her, once his eyes had narrowed, once his mind had carved out memories. He'd seen her first by the Veins of the Gods, when they'd been tasked by Kisamoa (Kaos), when all he'd wanted to do was be left alone, and the world had flocked to his side, one by one, entrenched them in amusements, distortions, and absolute stupidity. She'd been there again, on the gnarled, twisted roots of the Spectral Marsh when everything had gone straight to hell, and he could've sworn he'd watched her run to the bone monster, and a lady, coated in silver, had launched out to save her. Curious, he obliged the remembrance, gaze softening a fraction. "I remember you from the Veins, then Kao's reveal." His head tilted, an inquisitive demon luring more into his spellbinding webs. "Was your savior mended?"


credits
@Oizys
@Wessex
Aurora Basin Soldier

atk: 7.0 | def: 8.5 | dam: 6.5
Mare :: Hybrid :: 17hh :: 2 HP: 73.5 | Buff: NOVICE
Ker :: Philippine Eagle :: Curse

Snow
AS GOD IS MY WITNESS, I'D RATHER BE DANGEROUS
To her call comes a response, and the yearling's ears ram forwards to eat up every note and change in tone that may signal what reception awaits her. It is a miracle to hear a horse-sound, as for a moment Oizys had thought that this land was inhabited by metal-men alone. Through the snow comes the duo's first sight of a true Basiner, a haunting black figure which solidifies into a mare. She has a plentitude of horns around her face, a set of impressive weapons which earn an approving glance from the gargoyle's cold grey eyes, and she doesn't
seem
unfriendly. Ker lands on Oizys' broad withers and eyeballs the stranger, ready to strike if she shows any sign of aggression.
Hello. Who are you? A week ago, such a question would have earned a sarcastic, flippant and probably none-PG response, but for once Oizys is able to bite her tongue. It's too soon to say she has turned over a new leaf and is now the paragon of politeness, but her dam's death has somewhat tamed the fuck-you-world attitude inside her. For now, anyway - perhaps when her grief has faded, the old Oizys will return. "My name is Oizys, formerly of the World's Edge." The words hold no sharp edges, no venom, no rage - they are neutral, tentative almost.

Before she can elaborate further, she hears a warning; a voice booms across the snow, preaching caution regarding the Sentinel. The filly glances around for the hidden source, whilst shooting a wary side-eye at the metal beast. "And here was me resisting the urge to give it a cuddle," comes her sarcastic response, unbidden. Ah, there's the sass! The words feel good, like a hand fitting back into a familiar glove, but they also fill her with guilt, as though daring to say anything that isn't sad is an insult to her dam's memory.

There's a hint of familiarity around the man who approaches, who offers the words of warning; it takes her a moment, but she remembers. Back when Kisamoa was good and Kaos wasn't even a thing, she'd helped him move logs whilst she tittered in amusement at a shapeshifter meeting the living version of his stolen identity. Laughter seems like a strange, foreign sound now. He is a handsome, well-built young stallion, the sort that her mother would have eyeballed, cougar-style, whilst Oizys covered her eyes in disgust. How she'd love for Nyx to be here now, embarrassing her!

Was your saviour mended? The gargoyle stiffens, tightens. Ker's shivering is forgotten as she automatically leans to twine her beak around Oizys' mane, a gesture of reassurance. That's the part that the slate yearling doesn't like to dwell on - the fact that almost all of the gathered Helovian population saw her jumping recklessly in to fight the monster, and saw Nyx dying in order to save her. "She was my mother," says the girl, and her voice is strong. All her life she's had to deny that she came from Nyx's womb, had to lie and say she was a foundling, an orphan. She's always wanted to shout from the rooftops that she is the daughter of the great Reginald, but now she feels equally as keen to announce that she is the daughter of the brave Nyx, too.

She looks away from the stallion, her expression grave. "And no, she wasn't." To some, the offhand, casual way Oizys says this may appear crass, uncaring. The opposite is quite true - she never shows her feelings, so this to her is an explosion of emotion, with the downwards tilt of her lips and the unhappy sag of her ears. Those cold grey eyes burn with sorrow, even if the face that surrounds them refuses to succumb to the weaknesses of the flesh. Inside, she's screaming.

She shuffles, keen to shift the subject aside. "I have come to join the Basin, if you will have me." She stands tall, displaying each impressive muscle beneath the grey fur, showing off her draft-like shape and her fledgling warrior's build. She has power running through her blood, after all, and it shows in the elegant yet functional curve of her neck, the stocky set of her body. The filly needs them to see her potential, so they may look past what they saw during Kaos' reveal.
image credits
@Wessex
@Erebos

[ the gargoyle queen ]
OIZYS IS ALWAYS RATED M FOR STRONG LANGAUGE IN HER POSTS
Aurora Basin Haruspex

atk: 5.0 | def: 8.5 | dam: 7.5
Mare :: Unicorn :: 16.3 hh :: 3 HP: 68 | Buff: NOVICE
Astor
I AM IRON AND I FORGE MYSELF
Before she can introduce herself, Erebos's voice calls to them from the ridge, and her head jerks toward the General, gaze and breath directed upwards. It is Oizy's retort, however, which breaks her stoic soldiery-ness. She doesn't expect anyone else to get it, because neither of them had been there when Tiamat (their new Lady!) joked about the Basin being the cuddling type of herd in the winter months. But perhaps one of them would find it amusing, so she directs her retort to the tri-horned mare, saying just as saucily, "You wouldn't be the first. We're cuddling fiends here in the Basin." She finishes with a stone-faced seriousness, as if every word she utters is the absolute truth.

See, General of mine, her gaze says when it meets his brazen wink, I, too, can jest.

But her role in this exchange is fast coming to a close, and she knows it is not her place to accept or deny a potential member. This mare seems ok, easy with the give-and-take of banter, and if truth be told she would welcome another soldier (what else does she plan to do with those wicked looking horns? They could be quite the pair…). But Oizys does not address Erebos by name, so before the General completely takes over, Wessex interjects and introduction, "Oizys, this is Erebos, our General." Her legs take two steps backwards, leaving her at the gray-blue stallion's shoulder, all shadow and keen orange eyes.

Whatever had happened in the Marsh, Wessex hadn't noticed. Oizy's slate was clean with her.


W E S S E X
image credit
@Oizys
@Erebos
-- please tag in all posts! --
-- magic and force allowed, no death or permanent damage --
Aurora Basin General

atk: 7.5 | def: 11.5 | dam: 6.5
Stallion :: Unicorn :: 16.1hh :: Four HP: 75.5 | Buff: DANCE
Orsino :: Plain Kitsune :: Dark Illusions & Enyo :: Common Griffon :: Draining Clutch

Heather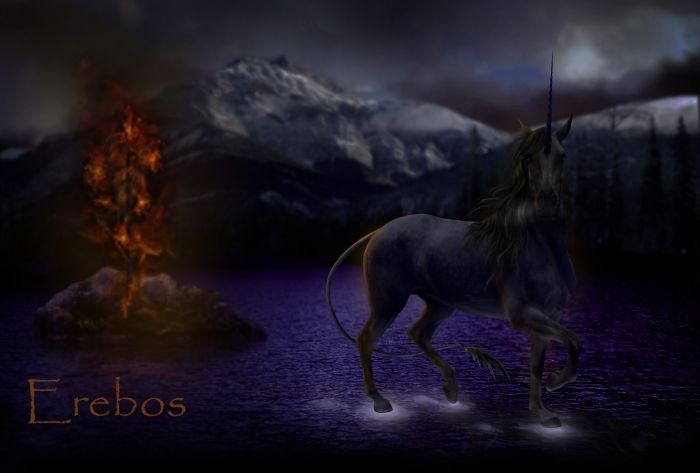 Erebos managed to stifle a laugh from erupting chaotically along the shambles of their border from Wessex's response, but he winked at her again instead: thoroughly amused that another of their stony clan had a sense of humor. Then his eyes drifted, narrowed, as she backed away, wondering why she felt the need to disappear behind him, as if she had no place at their helm – the boy had half a mind to follow her backpedaling motions so she understood she'd be welcomed, not sent into some subservient role. His brow arched in silent inquiry, but couldn't do anything further, not when the filly had begun answering him, not when she proclaimed the savior within the Marsh had been her mother.
 
His skull twisted back, eyes riveted solely on her, and somehow knew, sensed, what the next set of words were going to be – she wouldn't have been there otherwise, drifting into a herd, a kingdom, an empire, she didn't know unless…
 
Death was a harsh finality. He'd experienced it over and over and over again – it seemed like spring hadn't been a welcoming age of regrowth and renewal, but the slide of archaic demons, of Reapers who could once topple giants, of mares who gave everything so their child may live another day. For a few seconds, the youth didn't say anything. He knew what it was like to lose a parent, someone who was a part of one's world every second of every day, who sheltered, who guided, who obliged or scolded, who scorned stupid errors and careless mistakes, but who loved and cherished with every fiber of their being, and damn, it wasn't fair that all they did was encounter loss. She seemed to tuck herself away though, much like he did nowadays, forgoing the tears because they'd already been shed, not daring to look at anyone or anything because they could be a reminder of what was and never could be, putting on pretenses and masquerades to benefit someone else. He understood it all, and so he only gave her the ornamental vow he'd granted to all the others who'd watched another fall before them, who'd been saved and had to live with the guilt, the anguish, and the despair. "I'm sorry for your loss." The beast didn't offer sentiments towards She must have loved you dearly or she'll be looking down upon you because the girl must've known that already, must've heard it from every other stranger and familiar alike; and because all she seemed to want now was a home. He could grant her that, at the very least. "You're welcome to stay here," he provided again, with a warm smile, with a Cheshire's grin, with an amiable air of charming bestowals and potent nuances, acceptance in an instant from a gallant, intrepid heart.


credits
@Oizys
@Wessex
Aurora Basin Soldier

atk: 7.0 | def: 8.5 | dam: 6.5
Mare :: Hybrid :: 17hh :: 2 HP: 73.5 | Buff: NOVICE
Ker :: Philippine Eagle :: Curse

Snow
AS GOD IS MY WITNESS, I'D RATHER BE DANGEROUS
The mare's remark about the Basin being cuddling fiends makes Oizys pause for a moment, hoping to God that she's only joking. She might be a reborn, softer version of herself but that doesn't mean she's going to snuggle up to her new herdmates and tell them bedtime stories. A simple involuntary shudder is the only sign of her internal thoughts, and she casts a wary side-eye towards the sentinel once again as though daring it to edge its metal ass closer and fold her into an embrace.
Wessex introduces Erebos as the herd's General, and the filly's ears prick with interest. General... Her mother had once held that rank within the Edge, solidifying her position as head of the soldiers. Her job had been to marshal them, command them, train them....if the roles are similar in the Basin, then this Erebos is precisely the person Oizys needs to speak to. Interestingly, in her youth the gargoyle had always pictured herself as a spy, a sleuth, a dagger in the night; her dam's blatant warrior-ness had been too in-your-face, too obvious. But since the grey mare's death, her yearling daughter has had a change of heart; she now knows, with a conviction that surprises even herself, that her life must head down the path of the soldier. Her father was a warrior, her mother died doing her duty as one - it would be an insult to both of them for Oizys to choose any other rank.

Before she can say this, Erebos offers his condolences. The only sign of the filly's internal turmoil is a sudden shadow across her hideously scarred face, a ghost of untold grief that momentarily softens her stone-hard features and eases the steel from those eyes. It's gone in a second, though; she dips her head in a curt nod of acknowledgement for the young stallion's words, not wishing to say anything further for fear her resolve will crumble. The memory is still too fresh, too open, for her to talk about it.

You're welcome to stay here. The gargoyle unleashes a breath that she hadn't realised she'd been holding, a tiny hint of the fact that she'd feared not being accepted here. "Thanks," comes her simple response, and Ker peeks daintily from around her broad neck to examine her bonded's new herdmates. The large raptor unfurls herself slightly, not wishing to appear as frozen to the bone as she actually is, and offers a click of her beak in greeting to the two Basiners.

"When I reach adulthood, I wish to become a warrior," she says. She addresses both mare and stallion, but her body is pointed more towards Erebos - Wessex seems to defer to him, implying that he is the higher-ranked of the two. Indeed, you'd be hardpressed to find a higher rank than the leader of the herd's military. "Is there anything I can do now to help me towards that goal?" Her adulthood is only two seasons away, but Oizys does not wish to spend that time idling around and festering. She wants to put the time to good use, strengthening her body and doing anything in her power to get rid of The Thing inside her heart.
image credits
@Wessex
@Erebos

[ the gargoyle queen ]
OIZYS IS ALWAYS RATED M FOR STRONG LANGAUGE IN HER POSTS
Aurora Basin Haruspex

atk: 5.0 | def: 8.5 | dam: 7.5
Mare :: Unicorn :: 16.3 hh :: 3 HP: 68 | Buff: NOVICE
Astor
I AM IRON AND I FORGE MYSELF
Oizy's shudder does not go unnoticed. In fact, Wessex's solemn expression ripples with silently contained amusement. Really, did the big, spikey-headed woman look like the cuddling type? If so, she needed to change that… somehow.

What she does miss is Erebos' vague look of disapproval as she lets him take the lead. Had she seen it, she would have requested to speak with him after and promptly explained that she is used to letting ranked officers take the lead in certain situations. Protocol is protocol. She would rather be corrected than mistaken, or make a fool of herself later. While they talk of the Marsh, her orange-yellow eyes linger on the miniature raptor, watching it unfurl its wings and she wonders how it perches on Oizys without digging its talons into her flesh. She knows very little about companions themselves, just that some have them and some don't. She is particularly fond of the sweet leviathan, Nimue (almost as much as she is of their Lady), but knows comparatively little of Erebos' multi-tailed fox.

What would Wessex's companion be? But her thoughts are pulled back as Oizys asks a question, and she can't help but say something. "Keep your body and mind sharp, and you can join me in learning the ins and outs of the Basin," she says with a glance towards Erebos. "I'm fairly new too. Could do with some company up in the mountains." It's almost like she's offered to take the filly under her tutelage for a bit - which she has - because it's a win-win situation. Show her value as both a fighter and a trainer, and add a not-complete-and-utter-newbie to the ranks when she is of age.

It just needs their General's approval.

W E S S E X
image credit
@Oizys
 @Erebos  
Sorrrrry I totally spaced and thought this was done! x.x
-- please tag in all posts! --
-- magic and force allowed, no death or permanent damage --
Aurora Basin General

atk: 7.5 | def: 11.5 | dam: 6.5
Stallion :: Unicorn :: 16.1hh :: Four HP: 75.5 | Buff: DANCE
Orsino :: Plain Kitsune :: Dark Illusions & Enyo :: Common Griffon :: Draining Clutch

Heather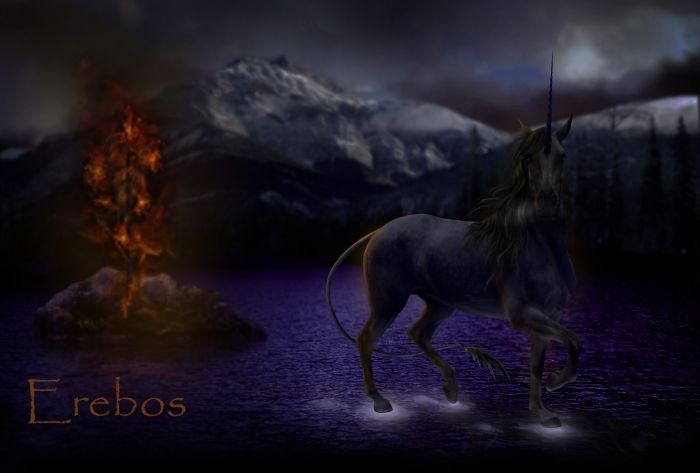 Erebos watched her very carefully, and said nothing, not a single solitary word, about the shadow pressed over her features, about the rippling effect of guilt coiled along her face. It was gone, swift and sudden, likely contorted back into her mind for a later moment, for a quiet instant in a cavern where she could finally fall apart. He did the same nowadays, hour after hour, occasion after occasion, discretely biding his time, instigating, incensing, unfurling a behemoth or Cheshire mask; allowed the grins and smiles to broaden, bestowed charisma, voiced concerns or uttered quiet commands, when all he wanted to do was splinter and fragment back into the soil. The boy had been lucky in some regard – he at least had a place to mourn, to grieve, to set aside snippets of twilight or dawn in his father's silent presence, settled in front of the mountainside tomb with a handful of glories and shards of failure. What did Oizys have but a catacomb, a marsh, a dangerous, treacherous void where monsters wreaked havoc, where fallen Gods turned into demons, where trickery and deceit exploited the masses? Perhaps her mother's figure had been taken elsewhere, and while curiosity drove the question along his mind, the General wouldn't dare to give it life. That was her secret. He wouldn't be the one to try and crack it.
 
Instead, the blue youth inclined his head in rapt intrigue as she voiced her intentions to be a warrior once she reached the corresponding age. He'd never actually known what he'd wanted to be until a pivotal, heart-stopping venture, when he'd gazed out on a friend's corpse and shouted at a Colossus, when he'd been a little David shrieking at Goliath, when he'd been incapable of doing anything, too late, not enough. The prince wasn't truly surprised at the notion – maybe it'd come from seeing her mother rush in to defend her at all costs, perhaps she'd like to wield a shield, a sword, press her blade into the flesh of the infidel who'd struck down the silver Amazon. He'd oblige her either way. Who was he to stop someone who wanted vengeance, just the same as he? His captivating smile lingered along his mouth then, one ear twisting towards Wessex's offerings (nearly proposing to take the girl under her tutelage, newcomers and wards sticking together), careful, studious gaze resting solely on the girl. The soldier's suggestions were thoughtful, enough to keep Oizys sharpened and keen while she grew (and avoided fighting entirely, he hoped, no sense of getting damaged and scorched before reaching maturity, ignoring Orsino's pulsing laugh about levelheadedness), and he only intended to bestow a few more. "We frequently patrol the borders, especially with recent events." He nodded towards Wessex, grin broad and bright, proud of her willingness, grateful for her inclinations. "You can watch our spars until you come of age as well. Once you're old enough, you may participate and practice with the rest of us." The glimmer of his stare rested back along the youth and her companion, wondering if the tasks would be enough for them, if they'd keep their minds focused, or if they'd wander down a path of no return.


credits
@Oizys
@Wessex