D E S T R I E R
~~~~~
The sound of iron against rock rang out in the Threshold. It was an unpleasant nuissance among the quiet that hung in the air, an unnatural noise, if one could not instantly place it.
The stallion was adorned with a sleek black coat now that winter was gone from the land. A long, wavy mane stretched towards the ground, slapping against his broad chest as he moved along. The iron horseshoes nailed into his hooves continued to smack against the terrain, undoubtedly giving away his presence. While they were a blessing sometimes, they were also truly, utterly annoying.
Picking his way through the forest, the Friesian kept his wits about him, nostrils flaring as he took in the wide array of scents. This place, while he had not sighted another soul, was teeming with others like him. His steps were deliberate, meaningful, and he carried himself with purpose. He was not afraid in this new land, not at all, but he could not help but wonder if he would recognize anyone. There had been a great battle not long ago, one that he had charged into like a thousand times before, and it had scattered several of his comrades in the crossfire.
It was the rememberance of the great battle that made the stallion's ears tip back, and a great sadness washed over him. His boy, his brave, brave boy, for as good a warrior as he had been, had not made it out this time. The stallion wanted blood for whoever had done it, but it was impossible to find the single culprit amongst all the action, especially when he had come to a dead stop to try and rouse the boy.
'Damn them all,'
the Friesian glowered in his mind. He was unsure how long it would take to get over the loss, if ever; he and Bran had been together for nearly seven long years. With a rough exhale, the soldier lifted his head and tried to rid himself of these thoughts. As much as he loathed it, he needed to focus on where he was, and what he would do now that Vallea was not his home.
ooc - Bear with me while I get used to him and get a feel for the personality I want him to have!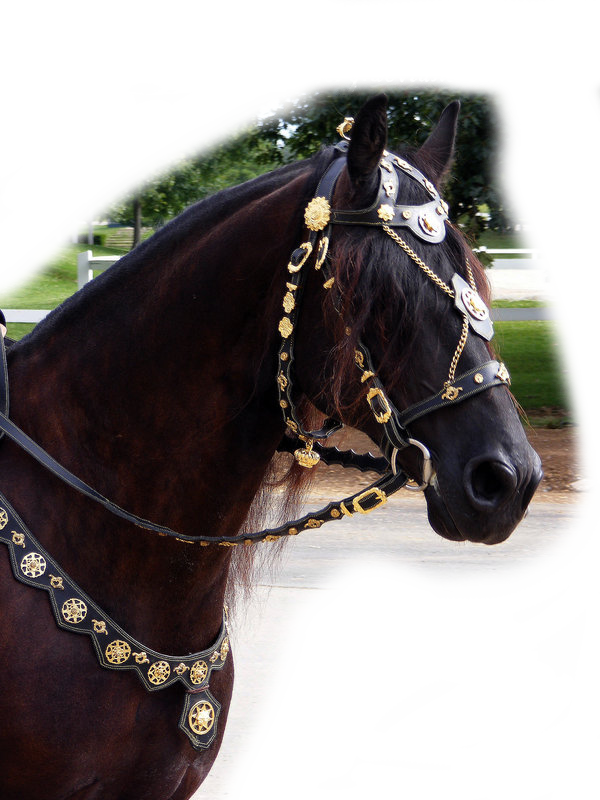 Image Credit