02-09-2013, 03:03 PM (This post was last modified: 02-27-2013, 07:25 PM by Catillatio.)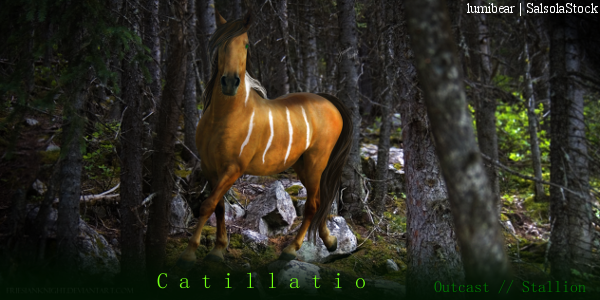 Actions | "Speech" | Thought

Hunting for recruits in the threshold had proven to be a little tedious. He had met a few prospects but for the most part, the sooty dunskin had been disappointed. The threat he had made was fading, he could tell. The time had come for some drastic actions. And as the stud trotted along the forest, he came upon a ravine that was almost perfect for gathering horses for him to speak. He wondered if any would come at his call if he made one, or if he would go ignored once more. The stag quickly decided that either way it was worth a try.

He jumped up to the ledge over looking the clearing and reared back, letting out a clarion call, the loud, high-pitched whinny that sounded like a cross between a scream and a whistle. It was loud enough that it would carry to a 5-mile radius. Any horse within earshot would hear him, and perhaps they would come. He hoped they would come. In any case, he had tried, and now it was time to wait, and see if anyne would answer him.

When the first few horses came, he nodded politely to them both. He did not recognize them, or if he did, he did not show recognition, for Tio was not one to play favorites. He watched them gather, feeling a private sense of relief that his battle cry had not been ignored. When he had a good-sized crowd, he began to speak from where he stood looking down on them from up on the ledge. "Thank you for coming. All of you. I know you may not know me, or even know what this is about, or why you decided to answer my call. None of these things matter. What matters is that you came, and I have a proposition for those of you with an open mind."

"You see, this is a call to arms. For those weak of body but strong of heart. Those lonely, downcast. Those kicked from their homes. Those that have done wrong and seek vindication. You have answered my call, and hear now my words, for your retribution is at stake! Many of you may know me by now, my reputation has been far from silent. I am more than just the phantom of a rumor. My name is Tio, and I call you to arms to help me usher in a new age. I seek nothing but the best, and I know you will give it in time if you can not right now. We will train you to fight, to protect yourself from life's injustices. Like the injustice of watching your foals starve to death because they have to travel from place to place with no home to really grow, and flourish. The injustice of having families torn apart because of superior, misguided judgement. The injustice of having others judge you for being yourself, or being kicked from your home because your only crime was doing what you love. I offer you a home, a chance for revenge, in return for your loyalty."

"We will rise together, fight together, and live in peace together! Should you choose to follow me, your skills will be honed, a new family, you shall gain. I have heard the cries of injustice coming from the South, and I believe I can rectify these wrongs. For all my strength and determination, I can not work miracles on my own. That is why I have come... Those of you willing to stand up and fight to carve out a home for yourselves in a territory of your own, you are most welcome to stand with me. Those loyal will be rewarded graciously, those who betray will be... well, it is best not to think of what will happen to them, am I right? And for those of you who doubt I am not worth following, let me show you why I was feared in my homeland..."

The stallion gave a dark chuckle and leaped down from the ledge into the crowd, his body sliding through like a snake. He wheeled about when he came to the boulders and kicked out with both back legs. The power in his strike was evident in the clatter of hooves against stone that sounded like a wrecking ball hitting a steel structure. He left deep, evident cracks in the stone, which spread like a spiderweb's tendrils until the boulder broke apart into a pile of rubble. He looked at the stone and then looked back towards the horses gathered.

"If you choose to follow me, you will not be disappointed. I assure you. We will take the Dragon's Throat... by sheer force of will. But again, we can only do that together. Now... WHO'S WITH ME?!" He shouted, rearing onto his hind legs with a second, loud clarion call. Perhaps he sounded mad, but he had spoken well, his tone of voice feverish with a driving fire. It was an inspiration that was hard to beat, the manipulation of a master of the art of deception. Tio's followers would get exactly what he had promised them, but perhaps his leadership would be a little strict. He saw it as a necessity- you followed him loyally, or he would kill you. It was as simple as, and he had not made an attempt to hide that, mainly because it would only happen if one chose to follow him now and then betrayed him later.

Admittedly, as Tio reared onto his back legs, he was searching the crowd with his acidic green eyes, gauging their reaction and also staking out the prospective mares in the herd. Truth be told, Tio was still intensely interested in finding and courting one such mare into ruling by his side. He saw himself as a Commander in Chief in need of an army to lead and the drive to find such an army... The ladies would have to be insane not to fall head over heels for him and his potential power. He winked at a few of them before landing on all fours once more to paw the dead leaves with his left foreleg.

1034
Open for anyone who wants to listen to/join Tio's purpose.
Location ||
Between the northwestern border of the threshold, the Northeastern border of the Thistle Meadow, and the Southern border of the Midland hills.
Land ||
A ravine lays in the dappled shade of a forest mixed between coniferous and deciduous trees. The floor is covered with dry leaves and needles at all times of the year and large boulders and slabs of rock pile up on one side, while on the other, a ledge stands to overlook the clearing. It is large enough for two horses to stand on and the clearing below it, large enough for at least two dozen horses to gather.