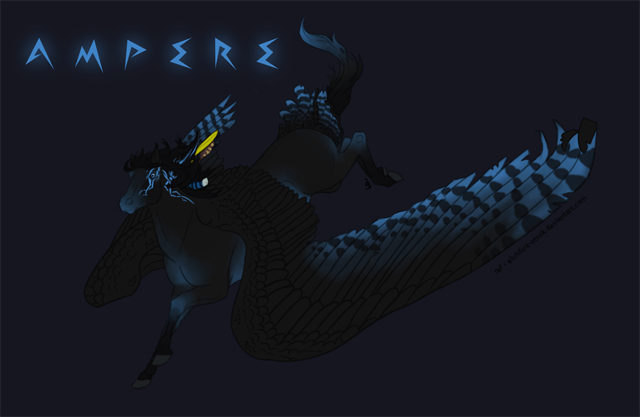 The Throat returned to her as her wings beat the air, and she to it, thankfully. Having the heart of wanderer had made the adjustment to herd life, difficult to say the least, especially when that adjustment had been beneath the weight of a crown. It had all been
too much
for Ampere, among other things, and she'd left. She had never expected the ache of that departure though, as if by experiencing a solid herd life, however brief, had managed to sap all the color and joy out of the wilds for her. Recently she had begun to feel the weight of her duties, all placed upon her by the herd, and the wilds had begun to grow more and more appealing again.
Yet returning home, in this moment, she couldn't have been happier.
She couldn't just head straight to the oasis though, nor play with her boy, not even begin work on a patrol. No, Ampere needed to her Sultans, because she had news - such was that
weight
again.
Her altitude declined as she flew over the watery bridge that separated them from the mainland, and as she went she gathered blue sparks from the plant matter that lay sprinkled everywhere. Tilting down, aiming to land, Ampere crafted her ball of lightning into a great bird. She cast it up, and about, just as her hooves landed, punctuating the summons with her sharp whistle. Gaucho and Megaera should both be familiar with it, although so would her warriors. It was her Sultans that she was most interested in however, and to them that she gave her attention should they approach.
"I've returned from the World's Edge," she breathed in the sand and the heat as she spoke, her voice calm and matter of fact. She had opinions on the events that went down there, but not strong enough ones to lend her voice much color. Who sat on the misty throne would be their concern. "They've
selected
the new leads." Still, Ampere wouldn't be herself if she didn't let her opinions bleed through, so her emphasis on the word selected gave some hint of how she felt about the inane process she endured with the candidates.
Though she had grown to enjoy herd life, she was still very much, wild.
@[Gaucho] and/or @[Megaera]
Please ask if you want to join this thread!