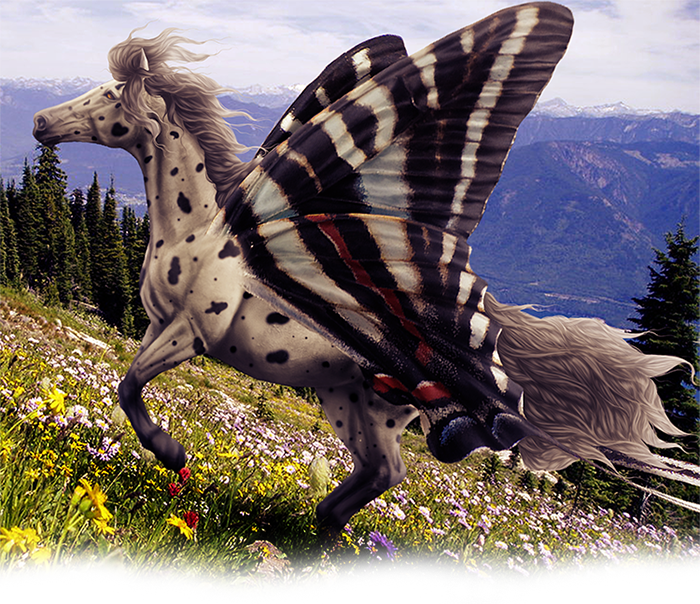 The last few days she had been in minor discomfort. The aching in her ankles had been nearly unbearable, but when hadn't they been, and there was minor cramping and back pain that had developed just recently in the days of her pregnancy. There was no doubt she was showing now, even her shimmery cloak couldn't hide that fact that her body swelled with the signs of new life. As active as she had tried to remain being, it had gotten harder and harder as time passed, and the child within her grew. Eyes anxiously looked around her as she reached the edge of the Edge (haha punny), ready to find somewhere to simply hide; when the contractions hit.

It startled her at first, a squeal escaping those inky lips, until the next ripple came forward and left her crumbling to the pine-ridden floor. Knees scraping and eyes suddenly going wide, her teeth began to grind at the unimaginable pain. Her dainty frame hadn't been ready for this, the contractions only growing in number, leaving her screaming in agony. She had wanted it to be quiet, the birth, to make it as discrete as possible so that she wouldn't have to tell anyone until the child was found meandering these parts. As her breathing began to quicken her vision began to blur, the pain consuming every ounce of her as her instincts tried to carry her through it. She was pushing by now, most likely; she couldn't really recognize anything over the pain, but something wasn't right. Little progress was being made, the life inside of her seemed to almost be stuck. Panic began to seep in through the pain and exhaustion, and without thinking she attempted to lift her head in order to check on the progress.

Another contraction sent her down again, a cry escaping her as she gritted her teeth and simply tried pushing again. As if a dam broke, blood and fluid began to leave her body like a flood, a small form following suit. Heart pounding and only half conscious, her instincts encouraged her to move, to do something in order to help the little bundle of joy behind her. The blood continued to trickle with the afterbirth on its way, but right now her main focus was the child. Splashes of dark fur were on a white canvas, her spots coming through on the babe's form in a lighter shade of brown. The most noticeable feature were the delicate (though very wet) wings upon her shoulders. An array of pastel colors, they would certainly more beautiful than hers as she grew. Hazel eyes filled with love, with fierce desire to protect the babe, and soon her tongue was moving over the body with the utmost tenderness, cleaning the fluid with ease. As she was so focused on her child, the littlest thing she had ever seen, she didn't notice that the bleeding still hadn't stopped.


OOC: Omg... I can't win XD. Let Laume post first please, then everyone else is welcome to follow!
MYRRINE
Life's too short to live simply
semperfeisty | xxtgxxstock @dA | leeorr-stock @dA | jerry oldenettel @ flickr
@Laume
@Quilyan
@Mauja
(God father's gotta be there :P)
@Tembovu
(you mentioned wanting to join?)
@Cerin
?? Yolo